Posted on Sun, 17 Aug 2014 at 09:50 PM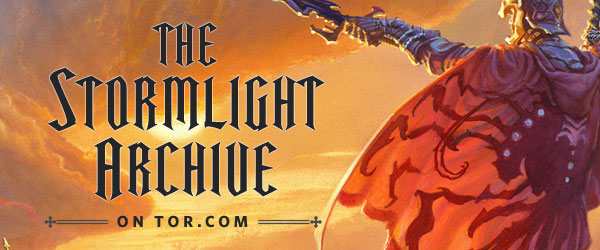 I just finished Words of Radiance, book 2 of the Stormlight Archive, Brandon Sanderson's ongoing Epic Fantasy series. If you haven't heard of this series, or its author you need to check it out. The planned 10-part series takes place in a war-torn land of failing kings, squabbling princedoms, and magical knights long thought to be gone forever.
When the king is assassinated by a mysterious man with powers no one should have, the kingdom goes to war with his employer. All the while a young surgeon, turned soldier, turned slave discovers his powers, and a young girl tries to steal from the most respected and hated scholar in the world.
If that little paragraph intro doesn't sell you, try a sample of the Audible version of the book. The narrators are amazing as they bring Sanderson's enormous world to life.
I listened to the books via Audible, and I'd highly recommend them. The books are long (it is Epic fantasy after all) clocking in at around 1100 pages (45 hours of audio). It's a significant investment, but one that you'll be hooked to for every page/minute.
If Audible sponsored, I'm sure that they'd give me a code for you to try the book, but I think you can try it via their 14-day trial anyway.
Give it a shot, the books were amazing. The bad thing is that, having finished them, I have to wait another 2 years to read the next one...